NEWS BLOG
In order to enable you to further develop your brands and products,
we will keep you up to date on global developments in the
food market and our pioneering concepts.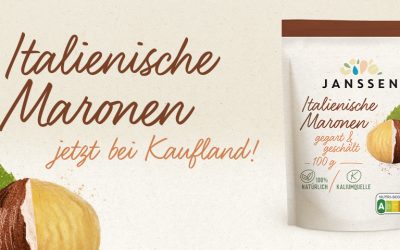 Autumn is the season for sweet chestnuts! Our Italian chestnuts, whether certified organic or conventionally grown, are as appealing-looking as they are delicious. Extra light in colour with a sweet, nutty flavour – cooked, peeled and ready-to-snack right from the bag or for creative use in the kitchen.
And the market is nuts about them, too: sales have risen by an average of 32% over the past two years. You can find our chestnuts under various private labels in retail outlets and in our Janssen design at Kaufland stores throughout Germany.
Sweet chestnuts: comfort food for crisp autumn days.